Staff
 
Pastor

Michael Millum
I have been in full-time ministry for nearly 30 years, ten of them as a United Methodist pastor, and the remaining nearly 20 as an ELCA pastor.  For the past nearly 16 years I have served as the pastor of St. Paul's Lutheran Church in Torrington, CT.  My wife, Deborah (she goes by Deb) is an attorney who works for an insurance company called RLI, with an office here in Atlanta.  We have three sons, Drew, 23, Keith, nearly 21, an Trent 19.
As your  pastor, I come with the goal of getting to know your congregation, and providing some stability with worship, and the various ministries and programs of the congregation.  You've been through this recently enough that you know how this works.  But for the year I am with you, I'm your guy.  I will  be here to visit, especially the homebound in the congregation, and provide pastoral care for the sick and the dying, and spiritual nourishment through God's Word and sacrament.  I am excited to meet you and do whatever I can to facilitate the call process as you look to call a full-time, settled pastor.  I'm excited! Eager! And I thank you for this opportunity.  God's blessings as we journey together through this next year!
Pastor

Justin Eller
Pastor Justin Eller is the new half-time Associate Pastor at Amazing Grace and is thrilled to be part of the Amazing Grace family. He also serves as half-time Assistant to the Bishop for Latinx Ministry Initiatives for the Southeastern Synod. Before moving to Atlanta, he served for four years as Associate Pastor at First Lutheran Church in Lincoln, Nebraska. His ministry interest are lifelong learning, intergenerational and family education, and equipping members to be disciples in the world and good neighbors in their community. Before Nebraska, Pastor Justin served as the ELCA´s Regional Representative in South America, serving as liaison between the ELCA and her companion churches in Argentina-Uruguay, Bolivia, Brazil, Chile, and Peru. His ministry in that region centered around accompaniment and interculturality as church models and theologies. Additionally, he facilitated the planning, monitoring, and evaluating of region projects supported by ELCA World Hunger. His first call as a pastor was with the Bolivian Evangelical Lutheran Church as a Pastoral Educator in the areas of Lutheran confessions, pastoral identity, liturgy, and contextual Lutheran identity with pastors, women, and youth. He earned his B.S. in Biochemistry from North Carolina State University and his M.Div from the Lutheran School of Theology at Chicago. Pastor Justin is married to Kari and together they have one son in fourth grade. Pastor Justin enjoys hiking, canoeing, traveling, cooking, weaving, and spending time with his family.
---

Lois began her musical training as a piano student and a French horn player.  She holds a Bachelor's degree in Music Education from the University of Arizona.  Previous to her joining the Amazing Grace family, she was a middle school band and chorus teacher.
Lois began singing in college, still studies voice and has sung in and around Atlanta with the DeKalb Choral Guild, Lutheran Chorale, Sacre Voci, and the William Baker Summer Singers.
Lois has served as the Music Director at Amazing Grace since 1996. She has channeled God's word with voices and varied instrumentation through many different musical styles ranging from bluegrass, rock, jazz, gospel, mariachi, Appalachian, and Sacred Harp to brass choir, wind ensemble, and string quartet.
Lois, a Nationally Certified Teacher of Music, also teaches piano lessons and maintains a large piano studio in Lawrenceville. Lois maintains membership in the American Choral Directors' Association, the Association of Lutheran Church Musicians, Georgia Music Teachers' Association, and is past president of the Gwinnett County Music Teachers' Association.
---

Organist and Pianist – Pam Asberry
Described as "one of the most promising solo piano artists in New Age music today" (B.T. Fasmer, New Age Music Reviews), Pam Asberry combines contemporary, new age and classical sounds to create music that is alternately melodic and graceful, dramatic and powerful, peaceful and hypnotic. Classically trained from the age of seven, she completed a master's degree in piano performance and piano pedagogy and has over forty years of professional experience as a music educator, adjudicator, performer, recording artist, speaker, author, composer and arranger. She has studied with Mary Jane Grizzell, Don Beattie, Guy Duckworth and Martha Thomas and performs with the Redeemer Piano Ensemble of Atlanta (four pianos, 16 hands) under the direction of Mary Brown Hinely and is principal pianist with the Gwinnett Symphony Wind Orchestra under the direction of Dr. Robert Dunham. Recent solo performance venues include Spivey Hall in Atlanta, Georgia; the Berlin Philharmonic Hall in Berlin, Germany; and the Place des Arts, Montreal, Quebec, Canada.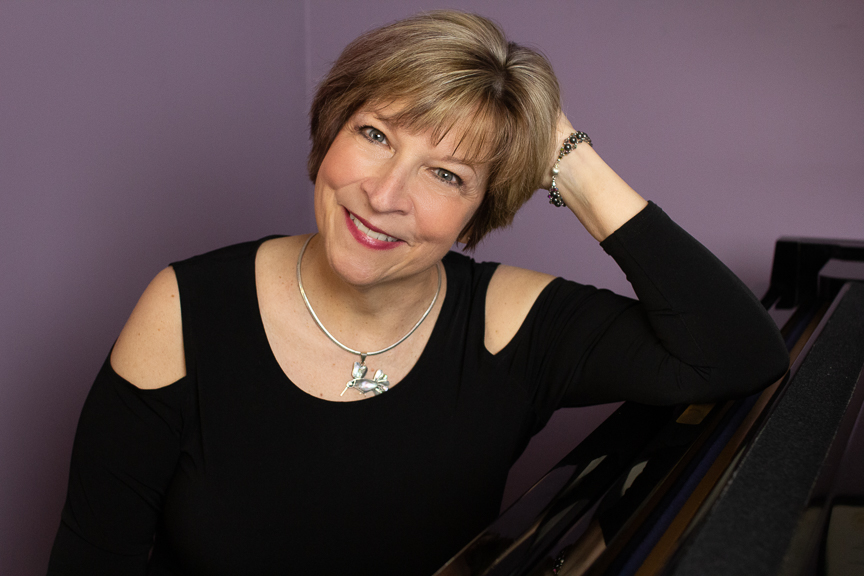 A BMI artist, Pam released her first album of original solo piano music, Seashells in My Pocket, in October 2017 and is a member of the National Association of Composers USA. Seashells in My Pocket was nominated Album of the Year at One World Music Radio and Pam was awarded Best New Artist at Enlightened Piano Radio. Her second album, a collection of holiday arrangements titled Thankful Heart, Joyful Mind, was released in October 2018 and was awarded Best Holiday Album by Enlightened Piano Radio. Her April 2019 release, The Presence of Wonder, reached #7 on the April 2019 Zone Music Reporter chart and climbed to #1 on the July 2019 One World Music Radio chart. Her latest album, All Through the Night," was released in October 2019. Pam's music can be heard on Spotify, Pandora, Apple Music, Siriux XM, and on radio stations all over the world.